show an interest in potty training they graduate to the next room; the Cinnabun room, which is comprised of children ages thirty one months to three years old. Ratio for teacher to child at this age is 1 to 10. Besides potty training the children continue learning their shapes and colors and get introduced to numbers.
Placement in the last three classes is similar to traditional school guidelines.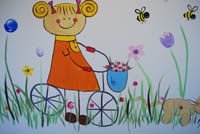 Children that are three before September 30 enter our preschool program (a.k.a. Lemondrops). The child are introduced to a longer circle time to help them get ready for the pre-kindergarten class, and also have more activitie s to choose from to build-up their independence. Ratio for teacher to child is one to ten. This group of children is introduced to concepts such as numbers, letters, and age-appropriate social skills.
The pre-kindergarten class (a.k.a. Blueberries) is for students that are four years of age before September 30. The ratio of teacher to student is one to twelve. Letters and numbers will be integrated in their lessons to help the child be familiar with concepts that are a major focus in kindergarten. Most lessons in this class are taught in groups of five to six children allowing plenty of time for discussion in addition to increasing social skills necessary to make a smooth transition to Kindergarten.
Our Kindergarten classroom is for students five years old by September 30. The ratio for teacher to student is one to fifteen. Students focus on letter and sound recognition, math concepts such as geometry, measurements, and number sense, social studies topics concerning citizenship, history, and geography, and science subject manners including Earth and Space systems, matter, and life processes.