Announcment
"May" this month bring happier times! Slowly but surely things will turn back to normal. We just have to be patient. Until then we've been busy occupying the children that are attending the center with lighter topics such as fairy tales and nursery rhymes. The school-aged children are also completing their assigned school work that was given to them from their public school teacher. Birthdays this month start with Andrew on the 1st. He will be 6. Spencer and Masen will be 3 on the 2nd of May. Harper will be 3 on the third. Erin turns double digits (that's 10) on May 4th. Harrison will be 4 on the 10th. Alyson will be 5 on May 11. Preston turn 3 on the 17th. Seamus will be 5 and JR will be 8 on the 18th. GiaVanna turns 4 on May 21. Gavin will be 7 on the 22nd. Archer turns 5 and Aiden is 7 on the 23rd of May. We have a "trifecta" on May 24 with Montana turning 3, Emma turning 4, and Harper turning 5. Sara ends our May celebrations on the 26th. She will be three. Happy Birthday to all our March students! Happy Mother's Day as well!
Cinnamon Sticks
Learning Center
600 Route 130 North
Cinnaminson, NJ 08077
856-303-2200

Cinnamon Sticks Class Calendars
---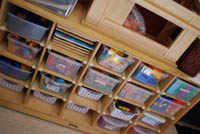 Every month CSLC hands out our class calendar schedules; for your convenience we will post our monthly class calendar schedules. To view your class calendar schedule simply click on your child's class.