Announcment
"March comes in like a lion and out like a lamb". Here's to warmer weather! Happy Birthday to Elizabeth (2 on 3/3), Hampton (3 on 3/3), Sarlette and Lyla (4 on 3/11), Faith (5 on 3/13), Avery is 3 on 3/14, Ben is 7 on 3/15, and Max is 4 on the 21th. Happy Birthday to all our March students! The Easter Bunny will visit the center on the 22nd and we will have a lesson about Passover on the 30th.
Cinnamon Sticks
Learning Center
600 Route 130 North
Cinnaminson, NJ 08077
856-303-2200

Cinnamon Sticks Parents Guide
---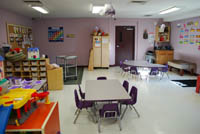 At Cinnamon Sticks Learning Center (CSLC) we utilize a play based approach which facilitates a child's learning through six areas of development.
Personal awareness: self help skills, independence, personal health and safety.
Emotional well-being: positive self concept, coping skills, awareness and expression of emotions
Socialization: Social interaction, cooperation, and respect for others.
Communication: receptive and expressive language, nonverbal communication and auditory discrimination.
Perceptual motor skills: eye hand coordination and loco motor skills.
Cognition: problem solving, concept formation, memory and association/classification

By following the creative play model we encourage the children to become creative and responsible individuals. All areas of learning are interrelated and work together allowing children reach their full potential. Play is the vehicle that best enables children to learn through active exploration of the environment in a fun and interesting way. When children enjoy learning there is no limit to what they can accomplish